Branded sweets in printed wrapper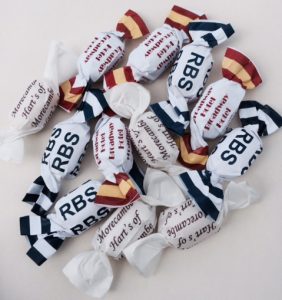 BRANDED SWEETS IN PRINTED WRAPPER.    Click the drop-down menus below to see how it works.  Once we have the wrapper details settled the printing and production process only takes a little over a couple of weeks.  After you have placed your order just send us a file of your wrapper design to info@therockworks.com and we can do the rest.  If you need help with the wrapper design we can assist.
Prices are plus VAT.  Mainland UK delivery is included.     If you have any questions before or during the order process just pick up the telephone.   Our telephone is put through to the mobile outside business hours.